Treating Sports Injuries throughout New York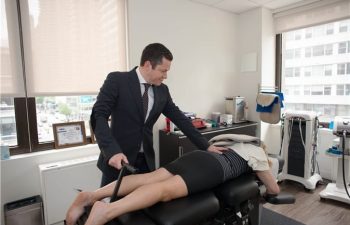 As a board certified chiropractic sports physician, Dr. Rolland Miro specializes in sports medicine and treating all types of sports-related injuries. At his Manhattan sports medicine practice, he successfully treats all types of patients from, professional athletes and celebrities, to everyday New Yorkers.
Need a sports medicine physician in Manhattan? Call to request an appointment.
Providing Comprehensive Medical Treatment
Dr. Miro is continuously pursuing cutting-edge sports medicine techniques to improve clinical outcomes and reduce treatment duration in order to get his patients back in the game.
Dr. Miro's sports medicine expertise centers on the conservative and timely treatment of musculoskeletal disorders including, but not limited to:
Disc herniations
Bulging disc
Sciatica
Sport or exercise related injuries
He is also board certified in Active Release Technique, Graston Technique, and the Flexion-Distraction Technique for herniated Disc NYC and bulging disc pain.
Dr. Miro is extremely professional and without a doubt the best at what he does. I have been seeing him for lower back pain and tightness. I am feeling like a new woman. The results for me on a personal level have been incredible. My flexibility, balance and posture have dramatically changed. His staff is extremely friendly and professional. Grateful to have found him!
Background & Medical Practice
Dr. Miro graduated with honors and received his Doctor of Chiropractic from the University of Bridgeport, as well as successfully completing a joint degree program earning his Masters in Sports Performance Nutrition.
His New York City sports medicine practice is specifically focused on physical rehabilitation, which means that our knowledgeable staff is well-trained in how to treat your specific injury. Our state-of-the-art facility accommodates the needs of athletes of all levels and individuals of all abilities to help ensure that they receive effective recovery and treatment options.
Manhattan Sports Therapy Brings On Dr. Rachel Berenbaum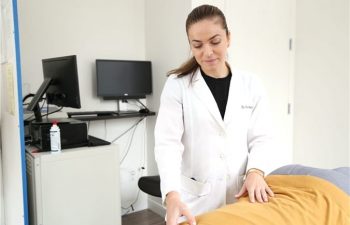 Manhattan Sports Therapy is proud to announce the newest addition to our New York sports medicine team, Dr. Rachel Berenbaum.
Dr. Berenbaum of has been serving people in private practice since 2008. She received her undergraduate degree in pre-med from Long Island University Brooklyn, New York and went on to receive a Ph.D. and Master's degree in nutrition (with honors) from the University of Bridgeport College of Chiropractic. She specializes in non-operative cervical, lumbar and extremity conditions. She is also very skilled in managing conditions related to disc pathology and mechanical spinal disorders. She has experience in treating acute and chronic musculoskeletal disorders related to postural correction. Widening her scope of care even further, Dr. Berenbaum is also highly capable when it comes to soft tissue injuries and treatments. Dr. Berenbaum specializes in sports injuries and is qualified to serve athletes of any level.
When it comes to sports injuries, Dr. Berenbaum isn't only knowledgeable from a medical standpoint—she's lived it out! She was a nationally ranked, Division I tennis player and understands just how an injury can affect one's performance and ability to function.
In addition to her skill, experience, and special knowledge, Dr. Berenbaum also has a passion for helping people with injuries, which makes her an ideal partner at Manhattan Sports Therapy.
When you have an injury, do not hesitate to contact Manhattan Sports Therapy. We look forward to helping you get onto the road to recovery.