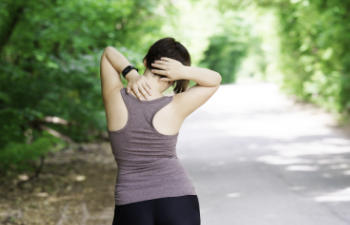 According to recent research, every year more than 22 million Americans head to the chiropractor seeking pain relief.
A full 35 percent of patients arrive after experiencing some type of trauma, whether from an auto accident, a sprain or a sports injury. Perhaps this is because these athletes know what the other 65 percent have yet to discover – chiropractic really does work as both a preventative aid and treatment for running injuries.
To this point, results from a recent research study published by the National Institutes of Health (NIH) showed that chiropractic treatment outperformed conventional injury treatment both to prevent and to heal sports injuries.
In this article, we take a closer look at chiropractic for runners from both a preventative and intervention viewpoint. Can chiropractic help prevent running injuries and provide faster healing times after a running trauma? Let's find out!
Chiropractic Treatment for Hip Stress Due to Running
The hip joint is not just the biggest joint in the human body but designed to be one of the most stable. Running can place tremendous stress on the hip joints and running with imbalances in the pelvis and hips can worsen this stress.
The result is often tight hip joints and sore muscles that over time can lead to strains and sprains and chronic pain.
One study published in the Journal of Chiropractic Medicine found that chiropractic treatment not only improved hip extension but also overall running speed and performance times.
In addition to traditional chiropractic treatment, Chiropractic News reported that patients who performed a series of prescribed hip extension exercises given by their chiropractor experienced additional improvements in overall running performance and some additional increase in running times.
Chiropractic Treatment for Runners Knee
According to health expert Dr. Josh Axe, runner's knee, or patellofemoral pain syndrome, is perhaps the most common of all the frequently-reported running injuries experienced by joggers and runners today. Statistics show that at least one in every 10 patients who visit a sports clinic do so in search of treatment for knee pain.
Runner's knee may feel like it arises from and is caused by the knee joint itself, but in truth evidence points to other external factors as equally plausible causes for knee pain and problems.
For example, poor alignment while running, imbalances in muscle tone, wearing the wrong shoes, running on sub-optimal surfaces and lack of proper pre- and post-workout stretches can all contribute to the development and worsening of runner's knee.
Chiropractic care and other non-surgical interventions are known to be restorative in an estimated two-thirds of patients complaining of runner's knee. Postural alignments provided during chiropractic treatment can be particularly vital in correcting imbalances in surrounding joints (hip, ankle, pelvis) as well as the knee joint itself.
Chiropractors experienced in treating athletes may also prescribe specific stretching exercises as well as balancing shoe inserts that can continue the corrective healing process in between runs.
Chiropractic Treatment for IT Band Injuries Due to Running
IT band syndrome, or Iliotibial Band Syndrome, is one of the most dreaded (and the second most common) injuries a runner can sustain. The pain can be severe and rehabilitation painstaking – all the more so because many runners do not recognize their pain as ITBS at first.
One study in the Journal of Chiropractic Medicine reported that chiropractic treatment can be helpful when combined with trigger point therapy as well as rest and IT band stretches as may be appropriate.
The study also emphasized that, as IT band therapy and recovery progresses, runners must be cautious not to skimp on stretches both pre- and post-run.
Chiropractic Treatment for Deep Muscle Adhesions Due to Running
One of the most important aspects of seeking chiropractic care for a running injury as well as for preventative care is to match the right type of chiropractic treatment with the patient's needs.
U.S. News and World Report pointed out that different types of chiropractic treatment that may be appropriate for runners with different types of mobility or injury issues.
For example, Active Release Technique, or ART, is one form of chiropractic care that may be especially beneficial for runners suffering from deep adhesions inside the muscles. The treatment seeks to release deep tension by applying deep tension while moving the affected joint appropriately.
Chiropractic Treatment for ACL Injuries Due to Running
ACL injuries are near-universally feared within the running community. Any type of rupture or tear to the anterior cruciate ligament, or ACL, used to be viewed as a fast-track to corrective surgery.
Surgery is sometimes still needed for serious ACL injuries, especially because this area of the body is so complex to treat. However, today the approach to treating ACL injuries is shifting with an emphasis on early introduction of rehabilitation for improved recovery.
In one research study published by the National Institutes of Health (NIH), active release therapy (ART) is one form of chiropractic care that is recommended for treating post-operative ACL injuries.
Another research study published by the Journal of Osteopathic Chiropractic reported that chiropractic treatment is routine prescribed to treat injuries in world-class ice hockey players – a relevant study since many injuries are similar between runners and ice hockey athletes, including ACL rupture.
Chiropractic Treatment for Hamstring Pain Caused by Running
Hamstring and gluteal pain is another common and often chronic injury that is particularly prevalent among long distance runners. The Journal of Chiropractic Medicine reported on the results of a research study treating three female long distance runners who presented with high hamstring tendinopathy.
All three patients received both chiropractic treatment and personalized stretching and therapeutic exercises in the course of their treatment, which consisted of 13 consecutive treatment sessions. With this combination treatment approach, all three runners were able to make a successful recovery with only minimal time off from training for recovery.
Chiropractic Treatment for Hip Snapping Caused by Running
A Study published by the Journal of Manipulative and Physiological Therapeutics reported on the successful rehabilitation of a marathon runner who experience chronic internal hip "popping" while running.
The treatment proposed was a dual approach that included twice-weekly chiropractic manipulation as well as myofascial release therapy for the psoas muscle. The patient also received instruction in a personalized series of therapeutic exercises to address issues in the IT band and psoas.
Even though the patient had been unable to run for the three weeks prior to treatment, at three weeks after his two-week treatment period, the patient was able to run again with no hip "popping" symptoms.
There is no doubt that running, while highly enjoyable and an excellent form of exercise, can also be hard on the physical body, its joints, muscles, ligaments and tendons. As these research studies demonstrate, chiropractic treatment can represent an important component of physical care for both hobbyists and serious competitive athletes who specialize in different types of running.
As you can see, there are many good reasons why so many top athletes and sports teams from around the world rely on chiropractic care as part of their preventative care as well as treatment for common sports injuries ranging from tendonitis to back and neck pain.
Chiropractic care can support proper posture and alignment as a preventative agent while also intervening in specialized ways to address and correct sprains, strains and injuries incurred during running. Chiropractic patients often experience reduced down time and recovery time after running injuries.