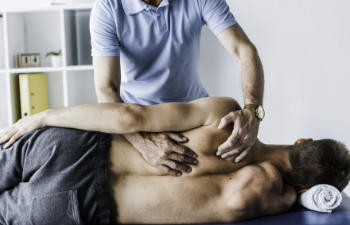 Alternative medicine approaches are becoming extremely sought out as evidence-based research shows its efficacy. Chiropractic care is one of the most popular types of alternative medicine with over 77,000 licensed Doctors of Chiropractic, in the United States, as well as millions of people seeking chiropractic help each year. If you are looking for a chiropractor in Midtown, contact Manhattan Sports Therapy for an appointment today!
What Is A Chiropractor?
A chiropractor is a trained doctor who specializes in spinal health. They are specialized in preventing, detecting and reducing misalignments of the spine and other painful joint issues. Chiropractors treat patients by performing hands-on chiropractic adjustments in order to help with postural restoration, nervous system function, spinal alignment, and maintenance of health. They are trained to use their hands to adjust the joints of the body carefully.
What Do They Treat?
Chiropractors are trained to diagnose and treat many different spinal disorders that may cause musculoskeletal or nerve pain. Chiropractors, just like doctors, perform physical and neurological examinations in order to make an accurate diagnosis. Some spine-related problems that chiropractors evaluate and treat include:
Back Sprains and Strains
Headaches
Herniated Disc
Sciatica
Whiplash
If you have or think you may have any of these conditions and are in need of a chiropractor near Midtown, call Manhattan Sports Therapy for an appointment.
Why Is Chiropractic Care The Best Option?
Compared to other medical treatments Chiropractic Care is one of the best ways to treat pain. Since Chiropractic Care is all natural there is no side effects, like with medication, or painful surgery that could leave you unable to function normally for months. Chiropractic care also has many benefits, including:
Pain Relief
Low-Risk Treatments/Non-invasive
Prevent Joint Dysfunction
Improves Mental Health
Reduce Blood Pressure
How We Can Help
At Manhattan Sports Therapy, our chiropractors are highly trained and experienced to treat your pain or conditions. We believe that hands-on, personal care is the best way to treat the pain and not just the symptoms. Our chiropractors will work with you to help you live pain-free again. Call us to make an appointment with one of our experienced chiropractor in Midtown.