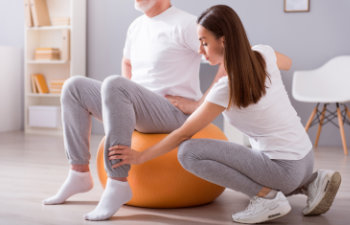 You don't have to run ultra-marathons, star in the NBA or play college soccer to benefit from physical therapy. The same professional rehabilitation services available to pro athletes are also available to weekend warriors and recreational athletes. Regardless of your level of play, we understand how frustrating it can be to suffer an injury that impacts your ability to physically perform on the field, court or road. Recreational sports, for many adults, is a source of pleasure and a way of stress-relief. Not being able to go out for a solo run as a busy mom or satisfy your need for competition with a men's basketball league can be a real threat to your overall well-being.
At Manhattan Sports Therapy, our physical therapists and support staff are here to help you get back to your favorite pastime as quickly as possible, whether it involves running six days a week or playing Pickleball on Sunday afternoons.
Common Injuries We Can Treat in Manhattan
Your injury may not make headline news like it would if you played in the NFL. However, that doesn't mean it isn't serious or that you can't benefit from rehabilitation to get back to your sport sooner. A recreational athlete can suffer all types of injuries. In fact, without a paid coach or professional trainer, you may be more likely to experience aches, pains and damage to your body when you play.
Here are a few common issues that our team can handle for recreational sports players of all ages:
IT band syndrome
Frozen shoulder
Plantar fasciitis
Neck injuries
Knee pain
Arthritis
Bulging discs
Many more
Many sports injuries are caused by overuse or misuse of specific joints. This can spread throughout your entire body and cause secondary pain or discomfort, especially when you don't seek treatment and start to compensate for your injury. Manhattan Sports Therapy can help you implement techniques or access orthopedic services to recover from your injury and prevent unnecessary future problems in the future.
Don't Count Yourself Out
If you love playing golf but have sidelined yourself due to back pain or elbow discomfort, don't assume your golfing days are over. In fact, many adults label themselves "too old" to play anymore when they experience an injury. Before you hang up your cleats or put away your clubs, seek the advice of our trained sports medicine team. In most cases, we can provide a combination of therapies to get your body ready for what your mind wants to do. These therapies can include joint manipulation, acupuncture, cold-laser therapy, strengthening exercises and others. One size does not fit all, and our physical therapists know what works best for your unique needs.
How to Get Back Out There
Get started by calling Manhattan Sports Therapy to schedule an initial evaluation. During your first visit, we'll discuss the cause of your problem, how it impacts your athletic activities, and what we can do to help. Dr. Miro is a Board Certified Chiropractic Sports Physician who gives the same five-star treatment to both recreational and professional athletes.