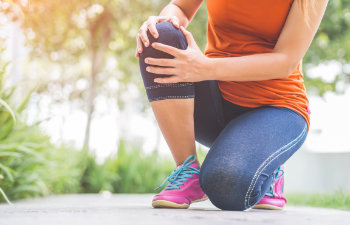 Knee replacement surgery, also known as knee arthroplasty, is a surgical procedure that replaces damaged or worn-out knee joints with artificial implants. According to the American Academy of Orthopedic Surgeons, approximately 600,000 knee replacement surgeries are performed each year in the United States.
While knee replacement surgery has a high success rate and can be life-changing for many patients suffering from chronic knee pain, it is not for everyone. In certain situations, a knee replacement is not the best solution. Whether the timing is not right or you still have non-surgical therapies to consider, Manhattan Sports Therapy is here to help patients regain knee comfort and mobility when they are not candidates for knee replacement or wish to avoid this invasive procedure.
When Knee Replacement Is Not Ideal
There are some important pre-requisites to consider, such as age, weight, heart condition and overall health, before deciding on a total knee replacement. First and foremost, you need to meet with your orthopedic surgeon. You will be carefully evaluated based on medical history, physical examination and x-rays. If your primary source of pain is advanced arthritis, you will likely be recommended a non-surgical treatment first. This may include weight loss if appropriate, an exercise regimen, medication, injections, or bracing. If your symptoms persist despite these measures, then surgery may be an option.
Here are some reasons why you may not be a good candidate for knee replacement surgery:
You are Too Young
Age actually does matter when it comes to knee replacement surgery. If you are too young, your doctor may advise against it simply because most prosthesis only last 15-20 years. Therefore, you would need an additional replacement to last throughout your active years. At that point, your bone may need to be cut short to make room for a new prosthesis and your mobility and function is likely to be damaged during a second knee replacement surgery. Most surgeons perform knee replacement to patients between the ages of 60 and 80. It is estimated that 72% of knee replacements are done on those over the age of 65.
You are Overweight
You are not a good candidate for a knee replacement if you are overweight. A prosthesis, just as your natural knee, is designed to carry weight that is proportional to your body. Too much weight can actually damage the prosthesis and make your knee replacement surgery counterproductive.
You are in Poor Health
If you have a terminal illness or cardiovascular condition, you may need to reconsider a knee replacement surgery. Although the advances in medical technology have improved the risk of knee surgery a great deal, it is still considered a major surgery that can put extra stress on the body during healing.
You Still Have Other Treatment Options
At Manhattan Sports Therapy, we are equipped to help patients avoid or delay knee replacement surgery. Our menu of non-surgical therapies for knee pain include:
Acupuncture
Active Release Technique® (ART)
Cold-Laser Light Therapy
Graston Technique®
Joint Support Taping
Kinesiology Taping
Muscle Stretching and Strength Training
Soft Tissue Treatment
Call our Manhattan clinic today to learn more about your options for a pain-free knee!