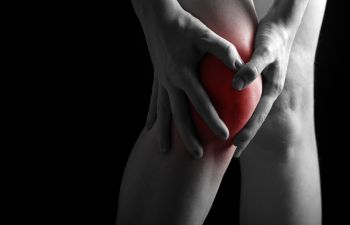 One of the most unfavorable outcomes of knee surgery is arthrofibrosis, more commonly known as "stiff knee syndrome." This condition is more likely to occur in patients who have had severe knee injuries as well as those with multiple or prolonged knee surgeries.  Arthrofibrosis happens when scar tissue builds up inside the knee, causing the knee joint to gradually shrink and tighten.
Scar tissue from arthrofibrosis can impact your range of motion and even cause permanent inability to bend or straighten your knee. This is especially disheartening for patients who have just undergone knee surgery to restore mobility and function. It is important to keep in mind that the occurrence of arthrofibrosis is extremely low.
Preventing "Stiff Knee Syndrome" With Physical Therapy
The best way to prevent tightening scar tissue is to keep the knee moving as much as your physician allows. While your surgeon may recommend that you use a CPM, compression dressing, cryotherapy or suction drain during recovering to reduce the risk of developing arthrofibrosis, a customized physical therapy program can be one of the most invaluable assets to reduce your risk of this condition. A physical therapist can help patients move their knee joint to its limit while ensuring the exercises are producing benefit instead of harm. In addition, physical therapy services can include a number of manual and non-invasive tactics to break up scar tissue.
How Do I Know If I Have Anthrofibrosis?
A certain degree of stiffness is normal following a total knee replacement (TKR) and may occur on a minor level after exercise for subsequent months or even years. However, if you experience the following symptoms (provided by Healthline.com), ask your doctor about the possibility of arthrofibrosis:
A Flexed Knee Gait – Walking with a bent knee can be a sign of stiffness and may indicate that you are developing arthrofibrosis.
Worsening Pain in the Knee – Normally, pain steadily decreases after surgery. If you experience an uptick in pain consult with your doctor.
Ongoing Swelling – Arthrofibrosis causes swelling in the soft tissue around the knee but this is different than swelling due to fluid buildup.
Weak Quadriceps – If you are unable to contract your quadriceps muscle in the front of your leg or have other issues moving your leg get checked for arthrofibrosis.
Hotness Around the Knee – It is normal after surgery to feel that your knee is warm or hot. However, if "hotness" feeling remains after 2 or 3 weeks, contact your physician.
With any knee surgery, both benefits and risks exist. Educating yourself on the potential risks can dramatically impact your ability to diagnose a complication, inform your doctor in a timely manner and get effective treatment.
At Manhattan Sports Therapy, we are fully equipped to provide knee pain treatment and a wide range of knee rehabilitation services in our state-of-the-art sports medicine clinic. If you are worried about your stiff knee after knee replacement surgery, call today to book your appointment and learn your options for treatment.