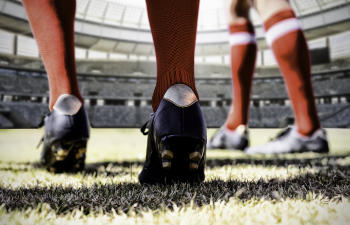 Just 1 month after an ankle sprain, NY Giants player Saquon Barkley (#26) returns to the playing field. Micheal Berg from Muscle & Fitness questions Dr. Rolland Miro on the details of Barkley's ankle injury and remarkable recovery time.
A high ankle sprain, Dr. Rolland says, is caused by a twist or tear in the muscle tissue above the foot and ankle. It takes about 2 – 3 months to heal with various treatments from cold laser therapy to kinesiology taping. Dr. Rolland reveals that Berkley's rapid recovery likely was due to an "elite athletic advantage." High-quality medical care and proper nutrition may accelerate an athlete's healing process.
To learn more, read the full article here.
Sport and exercise injuries can impact the quality of your daily life. It's important you seek medical attention at the early signs of pain to avoid further injury. At Manhattan Sports Therapy, our Manhattan sports medicine doctor can offer state-of-the-art treatment to rid you of your pain. Call (212) 310-0100 today to learn how we can help.